Swiss to draft new immigration law by end of the year says MP Roland Büchel
veröffentlicht am Mittwoch, 12.02.2014
USNews, div. Zeitungen weltweit
---
http://www.usnews.com/news/business/articles/2014/02/12/swiss-to-draft-new-immigration-law-by-end-of-year
www.thepublicopinion.com/news/associated_press/national/europe/swiss-to-draft-new-immigration-law-by-end-of-year/article_9d5cc80e-3357-5cda-a88c-1de679e29468.html

Das gab es noch selten. Eine "normale" Sitzung der Aussenpolitischen Kommission des Nationalrats wird in ganz Europa, ja fast weltweit, beachtet. Der Präsident und der Vizepräsident der Aussenpolitischen Kommission, Carlo Sommaruga und Roland Rino Büchel, geben Auskunft: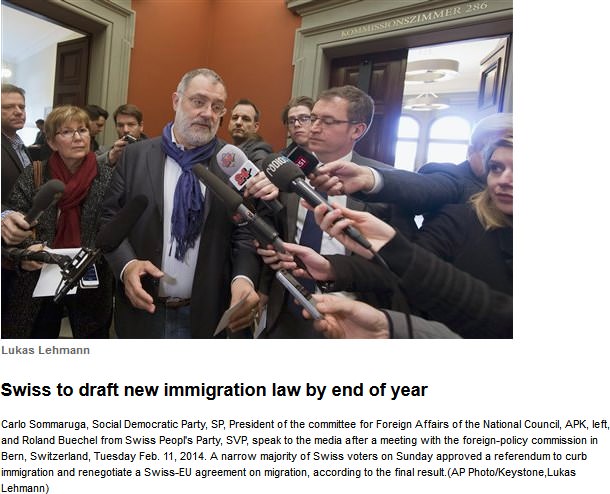 Swiss to draft new immigration law by end of year
Carlo Sommaruga, Social Democratic Party, SP, President of the committee for Foreign Affairs of the National Council, APK, left, and Roland Buechel from Swiss Peopl's Party, SVP, speak to the media after a meeting with the foreign-policy commission in Bern, Switzerland, Tuesday Feb. 11, 2014. A narrow majority of Swiss voters on Sunday approved a referendum to curb immigration and renegotiate a Swiss-EU agreement on migration, according to the final result.(AP Photo/Keystone,Lukas Lehmann)
GENEVA (AP) — The Swiss government says it will propose a draft law by the end of the year that would impose curbs on immigration as sanctioned by a weekend referendum.
Government leaders, who had opposed the referendum to impose quotas on foreign workers, say they also will hold exploratory talks with the European Union on a package of agreements affected by the referendum's result that includes the free movement of people and goods across borders.
The nation's governing seven-member Federal Council said in a statement Wednesday it would have to renegotiate border agreements with Brussels and "clarify" other issues before introducing a new admissions system for all foreign nationals within three years as required by the referendum.