Pressure builds ahead of Fifa World Cup vote - Büchel's motion in Swiss Parliament
veröffentlicht am Dienstag, 30.11.2010
swissinfo.ch
---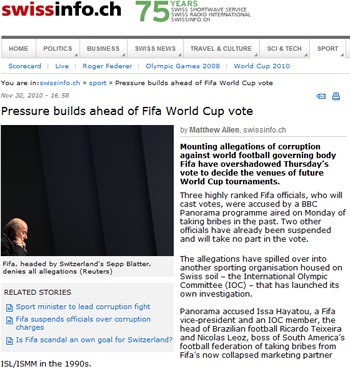 Mounting allegations of corruption against world football governing body Fifa have overshadowed Thursday's vote to decide the venues of future World Cup tournaments.
Three highly ranked Fifa officials, who will cast votes, were accused by a BBC Panorama programme aired on Monday of taking bribes in the past. Two other officials have already been suspended and will take no part in the vote.
The allegations have spilled over into another sporting organisation housed on Swiss soil – the International Olympic Committee (IOC) – that has launched its own investigation.
Panorama accused Issa Hayatou, a Fifa vice-president and an IOC member, the head of Brazilian football Ricardo Teixeira and Nicolas Leoz, boss of South America's football federation of taking bribes from Fifa's now collapsed marketing partner ISL/ISMM in the 1990s.
Fifa pointed out that a 2008 Swiss court case investigating the bankruptcy of ISL/ISMM had thrown out allegations of bribery.
"It is therefore important to stress again the fact that no Fifa officials were accused of any criminal offence in these proceedings," the Zurich-based football organisation said in a statement.
Fifa denies claims
Panorama is not the first British media outlet to accuse Fifa officials of corruption in recent weeks. Fifa suspended two officials and banned them from taking part in Thursday's vote following allegations from the Sunday Times newspaper last month.
While acknowledging that the allegations do not provide conclusive proof, the latest twist has led Transparency International to demand that Thursday's vote is postponed until all the facts are known.
"Fifa's integrity and credibility, already shaken in the past, have been badly tarnished and the reputational damage suffered by FIFA these last weeks is considerable. It threatens to extend to other sports associations and to the whole of Switzerland," the watchdog said in a statement.
Switzerland has reacted to the scandal by re-evaluating how it treats the many international sporting bodies that have residence in the country. Sports Minister Ueli Maurer told swissinfo.ch last week that he would investigate ways to tackle corruption in sport.
"It's clear that Switzerland is obliged to do something to fight corruption as we have lots of international federations with headquarters in Switzerland and we want to set an example in solving this problem," he said.
Parliament poised to act
Swiss politician Roland Büchel told swissinfo.ch that he is poised to launch a parliamentary motion in the next few days demanding government action.
The motion, that must first be voted on by both houses of parliament, will propose a three-pronged approach. It would give Fifa and other bodies tainted with allegations a year to either provide evidence of their innocence or prove that they are working to stamp out corruption.
Büchel, who once worked for ISL/ISMM but has never been implicated in allegations of wrongdoing, said the motion would compel organisations to cooperate fully.
"Everything would have to be presented: what has gone on in the past and what measures they are taking to fight corruption," he told swissinfo.ch. "They would have to be very careful not to misinform the government and they should not overestimate their own power."
The second part of the motion would examine whether laws should be changed to make such sporting bodies more accountable. For example, non-profit organisations are currently exempt from criminal prosecution for bribery, unlike commercial companies.
Thirdly, the motion would call on the Swiss government to cooperate with other countries to establish a European-wide or even global set of standards that sporting bodies must abide by.
Winter Olympics at stake
Switzerland has recently expressed an interest in hosting a future Winter Olympic Games, and Büchel believes it is important to clear up allegations of corruption in all sporting bodies before such a bid can be officially lodged.
While the IOC has only been indirectly linked with the current Fifa allegations, the Salt Lake City Winter Games of 2002 were mired in accusations of corruption during the bidding process.
Büchel believes a root and branch overhaul of the way sporting organisations are run and monitored is the only way to convince the public of fair play.
"We must be able to give Swiss tax payers reasonable security that the process will be clean. They must know that the winning bid will be awarded solely to the country that presents the best case for hosting the Games," he told swissinfo.ch.
Matthew Allen, swissinfo.ch