Schmiergelder im Sport - Schweizer Steuerzahler müssen bezahlen!
veröffentlicht am Donnerstag, 03.07.2008 23.56 Uhr
International Herald Tribune, New York Times, Taiwan News, The Boston Globe, Sowetan (Südafrika), Taipei Times, CNN, etc.
---
Hier die Übersetzung eines Ausschnitts aus dem untenstehenden Text, erschienen in den wichtigsten Zeitungen der Welt (auch im englischen Originaltext fett und gelb markiert):

Roland Rino Büchel, ein früherer Angestellter der Sportmarketing-Agentur ISL/ISMM war gestern im Gerichtssaal. Er wollte das Urteil gegen die Leute hören, welche für den Zusammenbruch der Firma verantwortlich zu machen sind. Er sagte, dass er vom Verdikt zwar enttäuscht, jedoch nicht überrascht sei.

"Von Gesetzes wegen waren diese Schmiergeldzahlungen erlaubt. Aber ich bin wirklich enttäuscht, dass am Schluss die Schweizer Steuerzahler die Rechnung begleichen müssen", sagte Büchel, der heute ein bekannter Kantonsrat der Schweizerischen Volkspartei im nahegelegenen St. Gallen ist.

Warum kam es zu diesem Prozess?

Die weltgrösste Spotmarketingfirma ISL/ISMM hatte auf der ganzen Welt hohe Sportfunktionäre geschmiert. Damit kam sie - wie die Angeklagten und ihre Anwälte vor Gericht aussagten - leichter an die lukrativen Verträge mit der Fifa, der Uefa, dem Internationalen Olympischen Komitee und anderen Sportverbänden.

Die Gesamtsumme dieser so genannten "Rechteerwerbskosten" belief sich auf mindestens 138 Millionen Franken. Das ist durch jahrelange Untersuchungen belegt und gerichtsfest bewiesen.

Nach 12 Jahren solcher Zahlungen mittels schwarzer Koffer, grauer Briefumschläge, dubioser Stiftungen in Liechtenstein, geldkoffertragender Anwälte aus der Innerschweiz und Scheingesellschaften in der Karibik ging der Laden Konkurs. Es war die zweitgrösste Schweizer Firmenpleite aller Zeiten. Schlimmer war nur noch der "Fall Swissair".

Über den Fall ISL/ISMM wurde viel geschrieben und berichtet. Es hätte jedoch noch mehr aufgedeckt werden müssen. Für einen normal Denkenden sind drei Sachen nur schwer vorstellbar:

Erstens:

Die ISL/ISMM konnte die 138 Millionen Franken Schmiergeldzahlungen mit dem Segen der eidgenössischen Steuerverwaltung bei den Steuern abziehen. Auch die Luzerner und die Zuger Steuerbehörden liessen sich das gefallen. Das Gericht sagt dazu lapidar: "Da können wir leider nichts machen. Das ist nicht Teil der Anklage."

Zweitens:

Der zuständige Konkursabwickler weiss von den Zahlungen bis kurz vor dem Zusammenbruch des Konzerns. Dr. Thomas Bauer von der Ernst & Young weiss auch, wer die Profiteure waren. Trotzdem hat er für die anständigen Gläubiger nur 2.5 Millionen zurückgeholt. Es ist deshalb nicht verwunderlich, dass im Gerichtssaal zu hören war:

"Der eigentliche Betrüger ist der Konkursverwalter; er hat den Gläubigern mindestens 135.5 Millionnen Franken gestohlen."

Vor Gericht wurde auch bestätigt, dass der Mann in diesem Zusammenhang einen "Korruptionsverdunkelungsvertrag" abgeschlossen hätte. Vor allem die internationalen Journalisten wunderten sich sehr, dass sich Dr. Bauer wegen Gläubigerschädigung nicht mit den sechs anderen Angeklagten vor Gericht zu verantworten hatte. Dafür seien reihenweise Gründe vorgelegen.

Drittens:

Die Schweizer Steuerzahler müssen den Angeklagten und den Verurteilten für deren Anwaltskosten und andere Auslagen und Entschädigungen 604'000 Franken bezahlen. Dazu kommt eine sechsstellige Summe für die Untersuchungskosten. Zudem werden die Anwälte weitere Forderungen in noch unbekannter Höhe stellen.

Es ist ein jämmerliches Resultat, wenn nach einem höchst dubiosen Konkursfall mit Dutzenden von geschmierten Millionen und offensichtlich verschwundenen Milliardenbeträgen sieben Jahre ins Land ziehen - und zum Schluss nicht viel mehr herauskommt als eine weitere Belastung der Steuerzahler. Dieses Resultat sei auf die ungenügende Arbeit des Staatsanwalts zurückzuführen und würde selbst einer "Bananenrepublik" schlecht anstehen, bestätigen die erfahrenen internationalen Reporter. Einen solchen Fall hätten sie auf der ganzen Welt noch nie gesehen.

Eine Frage bleibt:

"Was haben eigentlich die Buchprüfer während all der Jahre getan? Es kann nicht sein, dass in den letzten Monaten vor dem Konkurs Milliarden flöten gingen, vorher alles rechtens gewesen sein soll und am Schluss für das ganze Disaster niemand gerade stehen muss", meinte ein scharf analysierender Prozessbeobachter.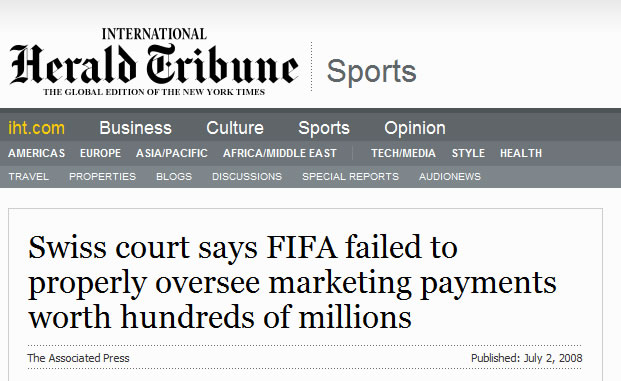 ZUG, Switzerland: A Swiss court ruled Wednesday that FIFA failed to properly oversee marketing payments worth hundreds of millions of euros (dollars) in a case that revealed how sports officials for years received large sums for arranging lucrative sponsorship and broadcast deals.
The three-judge panel in one of Switzerland's biggest fraud trials said FIFA was aware of the financial difficulties of its now defunct marketing partner ISL/ISMM months before it went bankrupt, but did not carry out checks of the "special account" it had access to.
World soccer's governing body was ordered to pay about 118,000 francs (US$116,000) in costs for lodging the criminal complaint that sparked the fraud inquiry.
FIFA's claim that it was caught unawares by the sudden lack of funds on the account ISL/ISMM used to receive payments from the sale of rights was not credible because it had insight into the account at all times, the judges said.
FIFA said in an e-mailed statement that it "has taken note of the verdict" but declined to comment further because it had not yet received the court's reasons for the decision.
The finding was one of a series handed down in a complex decision involving six former executives of ISL/ISMM, FIFA's marketing partner for almost two decades.
The six men were cleared of most of the fraud charges resulting from the company's collapse seven years ago.
But the court in the canton (state) of Zug found a key figure, Jean-Marie Weber, guilty of embezzlement. Weber, a longtime friend of FIFA president Sepp Blatter, is described in court documents as the strongman behind the ISMM group of companies.
The court said Weber in 2000 transferred 90,000 Swiss francs (then US$52,000) to his personal account for his own purposes and that it considers his refusal to explain the payment as damaging to his case.
Weber's lawyer, Marc Engler, said his client would likely appeal the conviction for embezzlement on procedural grounds.
"Our client doesn't have to prove his innocence by declaring the reason for the payment. He has to be assumed innocent," Engler said.
The judges also found two other defendants — Hans-Juerg Schmid and Hans-Peter Weber, unrelated to Jean-Marie Weber — guilty of deviously obtaining false documents in multiple cases.
The two men set up sham companies with the sole aim of diverting funds from the ailing ISMM mother company, which collapsed in May 2001 leaving debts estimated at US$300 million.
The ISL/ISMM bankruptcy tore a hole in FIFA's finances and forced the Zurich-based sports body to scramble to find new buyers for television and marketing rights to the 2002 and 2006 World Cups.
The financial crisis at FIFA led some of its senior officials to complain that leading figures including Blatter had failed to properly oversee marketing deals.
During the trial it emerged that ISL/ISMM made payments of 18 million Swiss francs over several years in order to secure lucrative marketing deals.
Among those explicitly named in court documents as recipients of payments is the head of the South American soccer federation. Nicolas Leoz, a 79-year-old lawyer from Paraguay who has been CONMEBOL president since 1986, was sent two payments in 2000 totaling US$130,000, the documents said. Leoz has not been accused of acting illegally and has previously denied any connection with the marketing company.
The judges in Zug said there was no evidence the payments had been bribes, but that they were clearly linked to the sale of marketing and television rights for major sports events.
The money was part of a larger amount totaling over 100 million francs that ISL/ISMM funneled through Liechtenstein accounts over the course of more than a decade. Such payments are not illegal in Switzerland.
A former employee of ISL/ISMM who was in court to hear the verdict against the men he blamed for the company's collapse said he was disappointed but not surprised by the verdict.
"The law allows for these payments, but I'm really disappointed that the Swiss taxpayer will end up with the bill," said Roland Rino Buechel, who is now a well-known counselor for the Swiss People's Party in the nearby state (canton) of St. Gallen.
The six defendants are being awarded compensation ranging from 17,000 francs (US$16,700) to 190,000 francs (US$186,000), less court costs. Such compensation payments — often paid by the government or another party making accusations — are frequently ordered in Switzerland when defendants are acquitted.
Lead prosecutor Marc von Dach said he would consider appealing Wednesday's verdict.
"In complex business cases you always have to expect that innocent verdicts can be handed down," he said.
Prosecutors have left open whether a second trial may be opened into whether any FIFA officials received illegal payments from ISL/ISMM. Von Dach said he was aware of the possibility of a second trial but could not comment as he was not involved in that investigation.